Here you can find ideas and examples of ways that The Barn of all Trades can help you beautify your home or business. Take your space and make it custom.
Are you looking for handrails?, then look no further. We specialize in custom iron and steel railings from residential to industrial, all sizes, shapes, materials, and applications. From very economical straight and plain lines, to very ornate and decorative curved railings, we can meet your needs.
Chances are, that if you dont have handrails on your house, that you have thought about maybe needing or wanting railing.
Whether it be for the elegance and cosmetic upgrade to your entry, or the need for support and safety as you travel your steps, we can help with your needs from design to install.
Insurance companies are also pressing home owners to install railings on homes without rails to prevent claims on policies.
We have had customers that the insurance companies have given a small amount of time to get rails up or their insurance would be cancelled. So don't be surprised if you get a letter or call about this.
For whatever the reason, we would love to discuss your needs and ideas to help make your project a pleasant and worry free experience. Simply go to our Quote/Pricing Request page and send us pictures of area the hand rails will be installed, quick measurement, and what style-color-maybe pictures of what you are looking for. Take a look at our gallery for ideas. We will get back to you quickly with an estimate.
All of our railings are hand built in our fabrication shop and powder coated your choice of color at our powder coat facility. We core drill and use an epoxy adhesive when installing railings for a sturdy long lasting product.
WE DO NOT SUB-CONTRACT YOUR JOB TO ANOTHER SUPPLIER! Our install crew will then install the rails at your convenience by local code requirements.
Do you have a path or drive way that you need to control traffic through or just simply need to beautify that empty hole? From simple and plain to the "Charleston Style" ornate gates, we would love to help turn your design into a reality.
We always use high quality heavy duty greasable hinges and have a variety of options for latches and locks, from simple slide bolts that you can padlock, to keyed entrance style with keyed deadbolts.
Drive through gates can be installed with automatic opening systems that are controlled by key pads, single button openers, and even your mobile phone. Click on the links below to find out more information on the automatic opener brands we install.
ALL-O-MACTIC GATE OPENERS
Ever heard the saying "Fences Make Good Neighbors"? Well, we think this statement says it all.......
From pets to security, Fences can make your life a lot easier. And it doesn't always have to be "just a fence"....we can make your border control an elegant feature of your property.
The design possibilities are endless..... And remember that all of our products are hand made here at our fabrication shop and powder coated right here at our powder coat facility before being installed by our crew with several years of experience in the field. We never sub-contract our work to another company. We are responsible for every aspect of the project.
Is your mailbox falling over or been on the receiving end of a car bumper one too many times?! Or maybe you are looking for that perfect custom look to enhance your curb appeal?
Check out our decorative mailbox posts with changeable decor.....we can fix you up with a different mailbox for every season....you can swap your custom metal art off the post with a new one depending on the season or occasion.....
And if you want just a good traditional mailbox post that will last for years and years, then we would love to do that for you as well. We can install.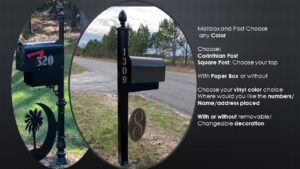 With the theft rates and break ins increasing daily, you need to protect your assets.
Let us do a free evaluation on your property and we would be happy to share some of the horror stories we have been involved with and heard about from past customers. It only takes about 5 seconds to get into your house. Locks are only for honest people. And alarm systems can help, but how quickly your local police respond will determine how much loot your burglar gets away with.
Then if your outside air conditioner units are unprotected, its not a matter of "IF" but "WHEN" your unit will get stolen. Many insurance companies will not cover your unit if it is unprotected! We have several years of experience with "securing" valuables, so let us help you protect your home and property!
When it comes to commercial projects, our team at The Barn Of All Trades is here to help with that as well.
From structural beams and building components to roof access ladders and dumpster enclosure gates, we've got it covered. 
For our industrial and manufacturing clients, we offer drafting and design, custom tooling and fixturing, custom parts racks and carts, and CNC Plasma services.